Sleeping Beauty
the engine fitter Carl Åge lived in Saudi Arabia – Well, it was in 1987 so it wasn't that fantastically long ago - He then saw an advert in a danish paper: The danish Morini importer, Vagn Stevnhoved, had a 3½ Sport for sale!
Carl Åge had some years before seen two girls riding their Morinis and ever since he had been dreaming of having one himself. He therefore immediately contacted Vagn.
The Morini was bought unseen as to be delivered the next time he visied Denmark.
In 1990 he moved permanently back to Denmark und the following six years he rode the Morini as often as possible. Sadly his back started to complain about the riding position. He was no longer able to ride it, and the Morini was stored in his cellar.
Until that Carl Åge had taken very good care of the Morini. Exactly like an engine fitter would be expected to do.
Fourteen years went by and on a day in January in the year 2009 Søren, another engine fitter, had an accident that took the life of his precious Morini.
The terrible news was heard by Carl Åge and immediately he offered his Morini to the despaired.
Søren therefore set out to Hamlets hometown to bring it back home. In Elsinore Søren was told the story of Carl Åges Morini. After this pleasant hour the journey went back to Funen with the Morini on the trailer.
Once the Morini arrived its new home, all good things were done to awaken it again. It was obvious that the bike had been well cared for before the long sleep: Only a small amount of tenderness and lubrification was necessary to have it roaring once again, just like a Morini should.
So it came about that Søren again could celebrate being the proud owner of one of the worlds loveliest vehicles .
And they lived happily.…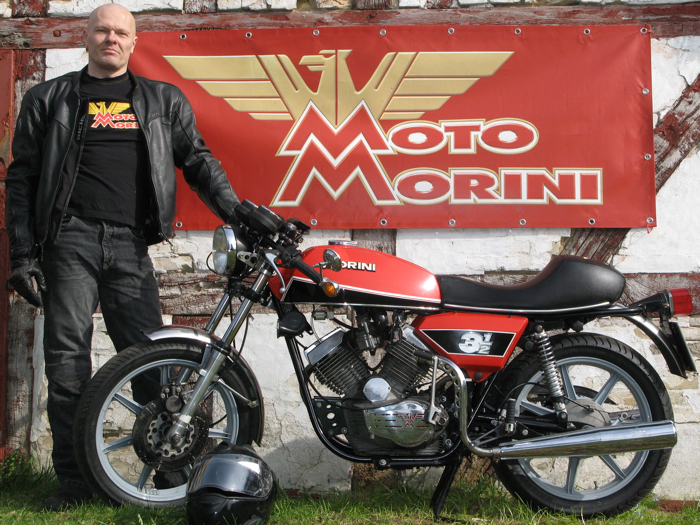 To the first page of Sleeping Beautys diary